Understanding the impact of knowledge-based economies in the Arab World
17 out of 22 Arab states have opted for medium-long term strategies to create of knowledge economies
While the localization of knowledge-based reforms have been successful, they have not resulted in significantly more real job creation
A global economic development narrative based on the transition to knowledge-based economies and accompanying high wage, high skill jobs emerged in the Arab World in the early Nineties very similar to that in the US.
Schwalje (2011) shows that 17 of the 22 countries in the Arab World have adopted development of a knowledge-based economy as a medium to long-term economic policy objective.
The appeal of an economic development trajectory and policy prescription that promised high skills, high wage jobs was perhaps irresistible in a region facing a youth bulge in which the number of youth 18 – 24 is expected to grow to 88 million by 2030 representing approximately 20% of the population (Secretariat 2008).
SEE HOW WE DEVELOPED A CSR STRATEGY TO ADDRESS LITERACY CHALLENGES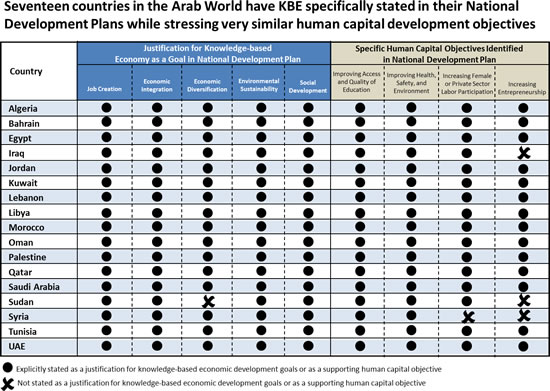 Initiated under the patronage Zine El Abidine Ben Ali, the former President of Tunisia, the World Bank hosted a conference in 2009 that led to the 'Tunis Declaration on Building Knowledge Economies.' Referencing the need for the Arab World to create 5 million jobs per year for the next 20 years, the declaration draws a causal relationship between knowledge-based economic development and ensuing job creation which will create the need for increased supplies of high skill workers. The declaration implies that, assuming the Arab World can develop a "solid education base, a dynamic information infrastructure, an effective innovation system, and a solid economic and institutional regime (Institute 2009)," economic diversification will lead to increased private sector job creation. Unfortunately, for the 21 signatory countries (Algeria, Bahrain, Djibouti, Egypt, Iraq, Jordan, Kuwait, Lebanon, Libya, Mauritania, Morocco, Oman, Palestine, Qatar, Saudi Arabia, Somalia, Sudan, Syria, Tunisia, United Arab Emirates, Yemen) many of these results have not materialized.
In addition to high skill, high wage job creation, however, the Arabization of the concept of knowledge-based economy infused economic development with a host of other development issues.
These include such as economic integration and diversification, innovation, entrepreneurship, education and training system reform, environmental sustainability, identity, language, gender equality, and political participation and democratic reform. As in the US, the importation of the knowledge economy concept to the Arab region was accompanied by a similar emphasis on the welfare of individuals being tied directly to their success in gaining and maintaining higher qualifications and skills.Which could be sold in the labor market to match high wage employment opportunities expected to be generated by emerging high skill, knowledge-based industries.
The concept of Knowledge-economy has helped to highlight and promote policy dialogue on key development challenges that the Arab World faces.
It has successfully brought coherence to a variety of socio-economic development discourses. While the Arab countries were good students, as evidenced by their embrace, implementation, and localization of reforms towards knowledge-based economic development, there is, however, little evidence that suggest meaningful job creation as a result of pursuing reforms towards knowledge-based economy.